Late Friday night (it was early Saturday morning by that point actually), my throat and chest seemed to burst into acidic flames. Pain burned at the base of my throat and seemed to travel until it ignited in my sternum. Recognizing it as heartburn, I tried my usual routines. THey failed. And so, come Saturday morning, I found myself in the ER, pain radiating from my chest and back, absolutely miserable.
I have never had heartburn so awful before, and apparently it was awful enough to actually cause damage. A diagnosis of reflux esophagitis followed after they determined that my cardiovascular system is as healthy as a horse, and I was sent home with prescriptions for some heavy-duty acid-reducers and the instruments to eat a bland diet, without coffee, tea, chocolate, peppermint, tomatoes, citrus, or anything acidic.
Usually I ignore those types of instructions, since my GERD is usually not triggered by acid. But in this case? I am following it, because my esophagus needs a break.
Bland diet doesn't mean it can't be tasty, though, and so I present...
Hot and Sour Soup
There are millions of recipes for hot and sour soup out there, each with their own variations. I know I probably have at least three or four recipes among my books alone. This one is from
Cooking Light Vegetarian
, and it's incredibly simple. The soup's biggest player is its broth, with mushrooms, tofu, and egg being the only chunky aspects. I followed this recipe exactly, except I used only shiitake mushrooms (fresh, so no reconstituting in water), used ground ginger instead of fresh, and skipped on the scallions, cilantro, and sesame oil (sesame oil is strong stuff, and I thought it may be a bit much for my poor esophagus).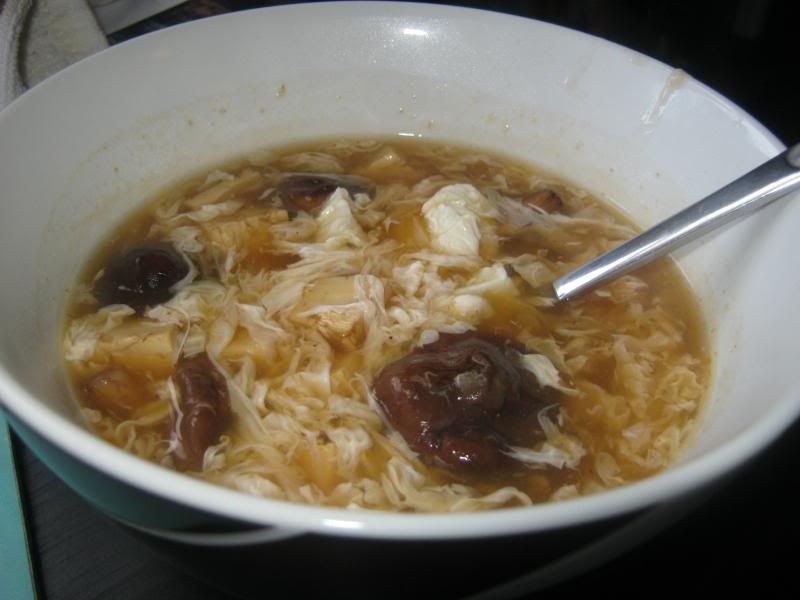 Does this not look like something you'd order at a Chinese restaurant? Though I do recommend you beat the egg white a bit like it recommends -- I didn't, and I had giant glomps of egg white in my soup.
This soup? Tastes incredible. It honestly tastes like something I'd order at a restaurant. I'm usually awful at making broths, but this has a very nice, earthy flavour that is perfect if you've spent the entire morning in the ER and need some comfort. The mushrooms add a unique meaty taste, and the tofu actually absorbs a decent amount of flavour, leaving it not tasting like water.
The only thing I will note is that is neither hot nor sour. Definitely add ginger or sesame oil to taste if you want something spicier. Also consider adding white vinegar in addition to rice vinegar -- the latter is known for being quite mild. Also, you can definitely use less than the number of egg whites requested; I cut the recipe in half, and as you can see, two egg whites took over the soup.
Otherwise though? 9.5/10. It was just what I needed to assure myself that bland does not have to mean "tastes awful".
Tschuess.